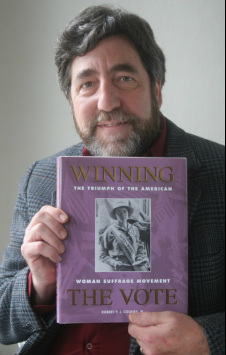 Author

Robert P. J. Cooney, Jr. has studied the historic drive to win the vote by American women for over 20 years. After attending the University of Santa Clara in California, he joined the staff of the Institute for the Study of Nonviolence in Palo Alto where he designed and co-edited "The Power of the People: Active Nonviolence in the United States" (Peace Press: 1977). This illustrated history traced nonviolent tactics and philosophy throughout U.S. history from William Penn to Martin Luther King, Jr., and awakened an interest in the woman suffrage movement.

Moving to Point Reyes Station in 1977, he began Robert Cooney Graphic Design and over the years created hundreds of books, publications, and special projects for commercial and non-profit clients. In 1993 he started the Woman Suffrage Media Project to coordinate and further efforts to help popularize this little known part of American history. He also began research for a photographic history of the suffrage movement, and visited or corresponded with major libraries and historical societies across the country.

Recipient of a research grant from The Schlesinger Library on the History of Women in America at Harvard, he served as a consultant on several suffrage-related books, publications, and films including the PBS documentary, "One Women, One Vote." After 12 years of work, he published the lavishly illustrated history, "Winning the Vote: The Triumph of the American Woman Suffrage Movement" (American Graphic Press: 2005), full of facts and nearly 1,000 images documenting women's early political achievements. The book received glowing reviews and was recommended as an essential resource for the nation's public and school libraries. In 2015 he edited and wrote an Introduction for "Remembering Inez: The Last Campaign of Inez Milholland, Suffrage Martyr," which includes accounts in suffragists' own words of a young New York activist's final speaking tour.

Mr. Cooney has spoken at the Smithsonian Institution, the U.S. Constitution Center, and the Library of Congress, emphasizing in particular the successful grassroots political campaigns suffragists waged between 1910 and 1920. He received the "Write Women Back Into History" Award in 2005 from the National Women's History Project in recognition of his work uncovering this nearly forgotten chapter in American history. A native of St. Louis, Missouri, he lives with his wife in northern California.

---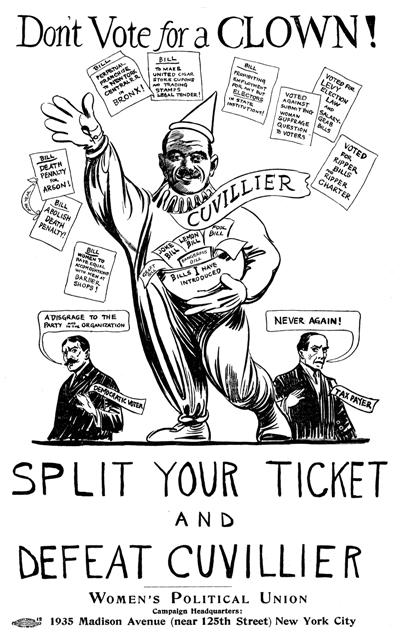 Harriot Stanton Blatch, the daughter of Elizabeth Cady Stanton, used pointed humor to lure away support during this pressure campaign against an opponent in the New York legislature in 1911. He was narrowly re-elected but fumed against "the cunning and shrewdness" of suffragists. (Credit: Library of Congress/"Winning the Vote")


American Graphic Press P.O. Box 362 Half Moon Bay, CA 94019